2010-02-04 Thursday Meeting
Attending:
Agenda
Project management

WorkPlan
Graffle review January
Graffle planning February
Tool feedback
Survey review: going over the bubbles & empty answers

Meeting Monday to discuss metadata harvesting with Caitlin, Curtis, Josh, and ?
Permissions demo & next steps prioritization: https://trac.openmicroscopy.org.uk/omero/wiki/WorkPlan/Permissions

Root has read-only session or world-readable annotations?
Do we want a "world-readable" group?
Allow upgrading (downgrading?) groups?

College of Life Sciences Research Symposium - 19-21 March 2010 (we sending anyone?)
Email and Forum Review

Email - up to date at 1pm today
Forums - ok, generally awaiting responses from our users or finished

Web Stats - Which of these figures are useful now we have the start-up figures on OMERO.qa
Meeting days - How are Tuesday & Thursday working? (had a reminder to check this pop up - Andrew)
Info
Current Web Stats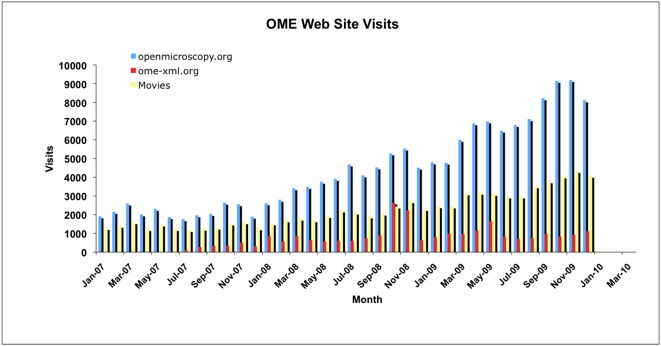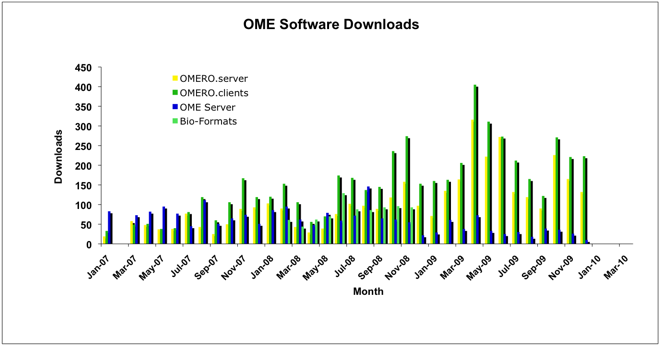 easy to calculate

ome-xml - unique visits
ome-xml - visits
www...org - unique visits
www...org - visits
Movies
bio-formats.jar (figures incomplete)

annoying to calculate

OME.Server
OMERO.server
OMERO.clients
insight - individual download
admin - individual download
importer - individual download
average of 3 individual + clients
Notes
The Tools Conversation

Andrew had no problems with the tools other than Jira

used lightbox effect too often, to present information in a smaller pane that he had to scroll, rather than using the entire window.

Will: no reason to switch

No ticket to ticket dependency (all hierarchical)
discipline on our side

Brian

if we add anything, visualization on top of trac like agilo
something to visualize like 6 months in advance

Scott
Donald

Have problem with trac, can't visualize tickets
Small number of subtasks now, will lead to rats nest
Didn't give me much more than whiteboard and burndown (scrum)
Have to buy in.
Mingle has a number of processes,...
pick a process
like mingle the best
like the queries

Josh

didn't give jira a fair chance
ease of adding tasks
who actually did it?
how much do we have to change for agilo?

Jean-Marie

using real-data is important
possible to port omero & shoola for next iteration?

Chris (dev)

good deal of time with mingle & agilo
don't like jira
worries about agilo: bulk modifications are time-consuming

sprint driven
moving things between sprint is extra work (tried for demo)
mingle UI features are more batch-able

using on our DB is quicker

helps us migrate to something else

Chris (sysadmin)

took about 3 hours to get us where we are with agilo
somethings are disabled because of things we've done to trac
take better part of a day (will have to lose things: tickettypes,...)
chokes on newticket at the moment

Andrew: can agilo and vanilla trac look at the same backend?

Chris: will have to port, also move CSS for javascript

Curtis: schema is compatible?

Chris: not sure. New tables & new caching.
Curtis: plugins? mostly.

Jason observations

updates take time.
communicating what your doing hierarchically takes time
looking at Josh's list, disappointing that the hours are lost
Will's comment, making a big change when we're unsure is difficult
re: Donald, we don't have to take on the whole process, but will take on definitions & concepts
the new WorkPlan on the trac is good, but work to maintain

Other

Donald: merging tracs requires fixing revision numbers & ticket numbers
Jean-Marie: not a good time to merge (wasting time)
Brian: try with a fresh start?

Chris: Reliance on source code mgmt integration (revision numbers, showing progress)
Chris: would suggest therefore just using agilo with this structure, without breaking anything.
Jean-Marie: perhaps better to not convert at all?
Jason: not try out agilo?

Andrew: anything else import from trac?
Scott: Do one iteration with scrum to see if we can go to agilo?
Jean-Marie: I would like to have us disciplining ourselves
Curtis

Donald said, "don't think trac can do good visualization"
worry about spending time porting
don't want to get locked into something proprietary

Can we decide if we are going back?

Decision * Chris sees what we need to change to have all features * ... and if we can go back * If we can go back, then we move.

graffle (remember don't worry about the size of the box)

everyone make the effort to check it out and look at it
WorkPlan for January: a lot of boxes hit a brick wall with new questions

How do we handle that? don't want to close them, but some category of work is done.
Josh: depends on what the process is
closing stories and adding new ones. increases the burn"down"
Jean-Marie: one graffle per person?
Chris: we could get everything of the graffle if we use agilo sprints

Everyone update the graffle page within the next hour?

survey

Jason: Can we minimally agree on the green bubbles? (slides 33-41)
Everyone agrees. Green are taken. (Good to have everyone speak)
Chris: nice to decide on the low hanging cherries (Doing outliers on Tuesday)

meetings

model meeting on Monday, 1400 GMT
metadata harvesting (protocol initiative), 1530 GMT

mini-server for XML-based metadata
library sciences
"last modified time"

permissions

server & client can now switch group

Jean-Marie didn't have time to take screenshots
installing server tomorrow so people can login and see how it works (also if annotation works)
can use importer, but you have to change default group in WebAdmin
feedback on the login screen &
Chris: any data on mage or warlock? (until Monday to save your data)
Jason: warlock for demo'ing HCS_PREVIEW? Yes. Use Mage.
Jean-Marie: lite admin panel for PI. what functionality is ok? (talk to Angus)

priority questions

Admin & private group: Read-only on a private group is ok for a first pass
World-readable group
downgrading group: "users are fighting, etc. etc" (feel pathological)

J-M/Ola will send out ticket link; feedback will be good

research symposium

Jason there
Chris has to go
Take the latest poster

Dundee & talk with masters students

email/forums

Jason sends ASCB text to Andrew
Chris has one forum comment *

awstats

some stats are quite difficult because of all the different file names
do we still need to record the downloads for servers / clients?
bioformats jar stats have disappeared? (Curtis: isn't installed)
Jason: both are useful

meeting days

reminder: ok for everyone? Good for Colin moving to T-R each week
ordering agendas so that things up high (with time limits)
edits should be done the day before. time for everyone to review things.
"AOCB": any other competent business (1 minute points)
discussing bubbles on Tuesday
Brian's Notes
Meeting Minutes Feb 4th, 2010
In Attendance: JM, Chris, Ola, Donald, Will, Jason, Scott, Josh, Carlos, Andrew, Brian, Melissa, Colom, Curtis

Tool Assessment:

Andrew didn't like Ajria the popups,
Carlos thought Ajira it was easier to follow,
Will thought all of the tools were similar but didn't find them different enough from trac to warrant a migration. If we used the existing tool better that would be great.
Brian thinks being able to plan thing well in advanced and visualizing dependences/future planning is paramount,
Donald thinks that Agila could become a rats nest and whatever we pick we need to adopt their process, likes mingle best
Josh would like to know how much effort everyone was able to put into these assessments. Agilo and Mingle seem to be the best.
JM suggests we try these tools with real data for one iteration.
Chris has spent a lot of time with Mingle and Ajiro. Ajiro doesn't handle bulk changes well. Mingle's batch editing is nice. From a sysadmin it's going to take time to migrate our data to either tool.
Jason doesn't think we have to use the entire process from these tools.
Curtis thinks we should investigate trac plugins instead of replacing the entire tool.
In Summary: Chris will try to get omero Agilo working and make sure we can go back of we don't like it.

Graffle:

Everyone should be reviewing the graffle weekly!
JM points out that it's hard to spot and handle brick walls from hidden requirements or incomplete implementations. As a result, updating estimates becomes a pain.
Graffle is becoming quite wide and hard to track. We could have it automatically generated via Agilo.
Please look at the graffle and update what you are going to do ASAP.

Survey Review:

It would be nice to get reconcile the 'low hanging fruit' items from the survey. Let's discuss those on Tuesday.
Everyone look at the points from the end of Josh's presentation for next Tuesday.
Rember the meeting on Monday for metadata. There is also a meeting with Curtis the same day for a metadata tool they are working on.
Some new sharing funtionality has been added and a demo should be up by Monday on Mage. Admin panel should also be available in insight if you would like to look it over. Update it's ticket if you think it's missing anything.

Other items:

Crief Symposium: speak up if you want to go.
Brian: Email Gerome about the nd2 internationalization problem from 4.0 feedback.
Document Actions